---
---
A stunning, dream-like odyssey through a beautiful and otherworldly Helsinki over the course of one evening, CONCRETE NIGHT follows the impressionable 14-year-old Simo as he keeps his soon-to-be incarcerated brother company. The official Finnish submission to the Academy Awards for Best Foreign Language Film captures the pain and joy of youth through exquisite, eye-popping black-and-white cinematography.
---
Additional Versions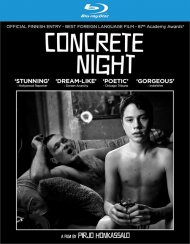 Information
Director: Pirjo Honkasalo
Writer: Pirjo Honkasalo
Writer: Pirkko Saisio
Length: 1 hrs. 36 mins.
Rating: NR
Released: Dec 21 2019
Production Year: 2013
TLA SKU: 2761947
Reviews
Review by Marty
By: Marty

Yes... this movie is beautifully filmed. And if you're a chicken hawk, the brief view of 2 naked teenage boys make this a worthwhile find. But I don't recommend this movie. Apocalyptic musings followed by gay bashing? Not my idea of a good time. ...
Read More
Review by Amos Lassen
By: Amos Lassen

Simo, a fourteen-year-old boy living in a stifling Helsinki slum, takes some unwise advice from his soon-to-be-incarcerated older brother. The brothers love each other and we see the pain and joy of youth in the their outlooks on life. This was the o...
Read More