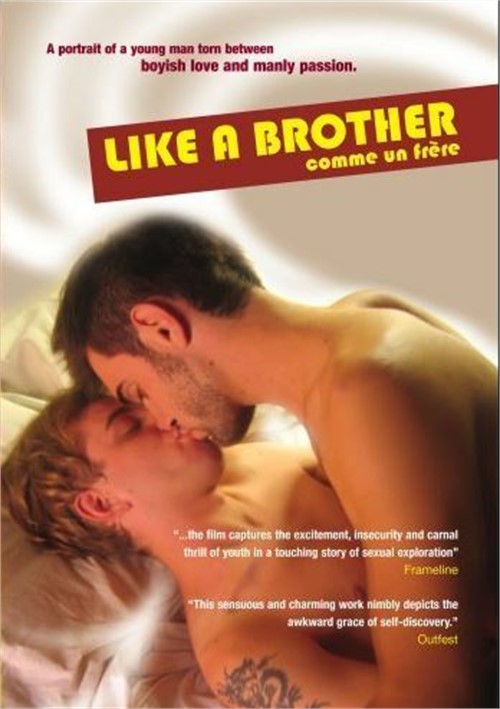 ---
---
Sbastian moves to Paris from a small town, changes his name to Zack and tries to party his way out of remembering his crush on his best buddy in this sex-drenched French film.
Information
Director: Bernard Alapetite
Director: Cyril Legann
Writer: Bernard Alapetite
Writer: Cyril Legann
Length: 55 mins.
Rating: NR
Released: Dec 26 2006
TLA SKU: 1875917
Reviews
Review by Scott Cranin
By: Scott Cranin
In-House Review - Sep 29 2008
Pulsing with sexual energy, this exciting French film recalls both the innovation of Come Undone and its feeling of sexual abandon. 18-year-old Sébastian (Benoît Delière) moves from his small-town existence to the wilds of gay Paris with its hot club...
Read More
Review by Amos Lassen
By: Amos Lassen

"LIKE A BROTHER"
The Carnality of Youth
Amos Lassen
There is something about the way the French make movies and make love. Put the two ideas together and you have dynamite. "Like a Brother" (WaterBearer Films) is just that. It intense...
Read More
Review by Like French Movies
By: Like French Movies

This is a tender, endearing coming of age drama. While short (55 minutes), it captures many of the same feelings and confusion that young gay men encounter. I also agree that the ending was completely unsatisfying, as if the director gave up on his e...
Read More
Review by isoron
By: isoron

He is totally correct on all his points - the guys are total eye candy but what a totally unsatisfying ending!!!!!
Review by just a reviewer
By: just a reviewer

THE STORY-----((#1)). Tres Cute-Boy grows up in quaint seaside town. ((#2)). Cute-Boy, realizing which way his 'tide turns', falls for Cute-Chum. ((#3)). Cute-Chum, to admit feelings (bi?......nah, prolly not), constantly lolls all ove...
Read More