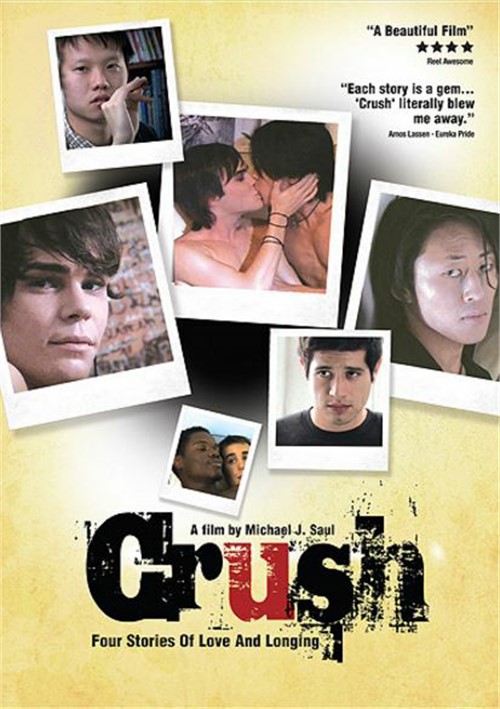 ---
---
Crush is director Michael J. Sauls new collection of shorts. It's an anthology of four stories that examine the many feelings of longing and love in gay relationships. In Don't Ask, a devoted couple is to confront their feelings regarding love and war when one of them begins to question his military service. The obsessions of an eager teenager lead him into the arms of a fellow classmate who hides a dangerous but erotic secret in Bloodline. For you lovers of "True ," this short is a truly delicious and original take on the vampire legend. The filmmaker tells us that he's adapting this story for a feature film. In Strokes, loathing turns to worship/lust as a young student learns some difficult life lessons when he accepts an internship with a surly, nasty (but hot) world-famous artist. And lastly, Breathe explores the true meaning of having a crush. Told from the overly romanticized writings of a teenager for his classmate, Breathe depicts the haunting beauty of first love.
---
Information
Director: Michael J. Saul
Writer: Michael J. Saul
Length: 1 hrs. 12 mins.
Rating: NR
Released: Jul 06 2010
TLA SKU: 1875749
Reviews
Review by Lou S
By: Lou S
In-House Review - Aug 09 2012
What is it that makes us fall in love? Seemingly an unanswerable question. How do we end up with our heart in another's hand? In Michael J. Saul's stunning new collection of shorts, Crush, the viewer is brought to the beginning of love ? why we feel ...
Read More
Review by Amos Lassen
By: Amos Lassen

"Crush"
Gay Romantic Love
Amos Lassen
I just finished watching an advance screener of Michael J. Saul's new film "Crush" and let me say from the get-go that it literally blew me away. The film is made up of four stori...
Read More