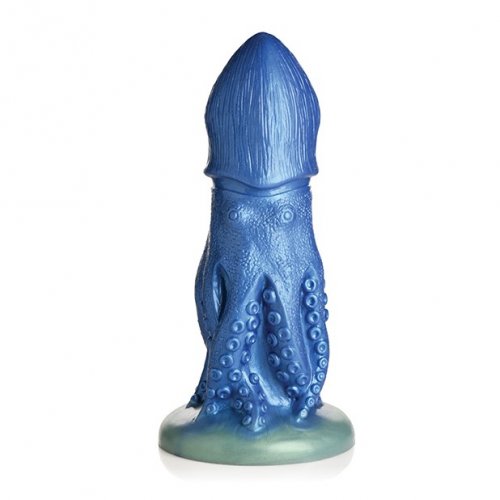 ---
Sex Toy
$74.95
In Stock
In Stock: Ships Immediately
Product is In Stock at our warehouse, ready for immediate shipment if ordered before 3pm ET.
Free Shipping
Eligible Free Shipping
Orders of $75.00 or more will be shipped our Standard Shipping option and the shipping is completely FREE.
Learn more
Deep from the ocean depths comes a creature that has come for dark caves and warmer waters. This iridescent blue octopus has eyes on the side of its head, eight with textured suckers on them, and a bulbous head that has a tapered tip. Take a deep breath and go deep with this girthy dong. Squishy and soft on the outside, it's firm on the inside and is going to fit to your form as you let it slip inside and penetrate you. Made out of premium, phthalate-free silicone, it is body-safe to use with water-based lubricants. The suction cup base can be placed on any flat surface for a hands free ocean exploration. Combine it with a strapon harness for couples fantasy roleplay. Include it in kinky cosplay or indulge in hentai fetish fantasies as you dream of the Fisherman's Wife and her Octopus lover and stretch your limits while slowly sliding this inside! Use it solo or with your partner to spice up your sex life!
You're floating in the open water. It's a hot day and no one is around. Your friends are through the morning after a long night of partying on the boat, so you decided to take a dip in the cool waters. Goggles on your face, you take a deep breath and dive deeper. Scanning the depths for fish, something catches your eye. It darts across your field of vision and disappears. What was that? Was it a fish? Was it a shark? Something touches your leg and you panic, swimming quickly up to gasp for air. You calm your breath and then take another deep breath and dunk your head underwater again to look for what it could've been. Your eyes widen as you see a shimmering, blue octopus floating nearby. Its eyes are watching you. Its slowly float as its large round head expands into a bulb. You're transfixed, enchanted by this rare meeting. It floats closer to you and then, to your utter shock, it reaches its and winds it around your wrist. You hold still, your heart racing as you feel the suckers tasting your skin. The other reaches for your waist, then another reaches towards your inner thighs. What is this tingling feeling? Before you can move it releases you and darts between your legs. In confusion you rise up with your head above the water, but you feel the head of the octopus creature writhing against your groin. You want to make it stop, but its head is slippery and its are strong. Then you gasp as unimaginable pleasure spreads through you as the tip begins to part your hole, the ultra slippery octopus slipping inside.
Creature Cocks Dildo: This girthy, tentacled beast uses its tapered, bulbous head to slip inside your dark cave. You'll gasp in pleasure and shock as all eight of its textured covered in small suckers stimulate you from within!
Premium Silicone: With a firm, flexible core and soft, squishy outsides, this phthalate-free and body-safe premium silicone is best used with water-based lubricants to give you the pleasure you desire!
Suction Cup Base: Go hands-free by pressing the base on any flat surface and riding it!
Harness Compatible: Pair with a compatible harness and ring so you or your partner can wear this fantasy dong!
Size
Overall Length: 8.4"
Insertable Length: 7.5"
Narrowest Insertable Diameter: 2.2"
Widest Insertable Diameter: 2.7"
For Use and Cleaning
Use plenty of lubricant for anal play! After use, rinse with a mild soap and water, or try toy cleaner for an even quicker clean up. Let air dry and store in clean discreet place for next time. We recommend water-based lubricants due to the material of this toy. Water-based lube should be used as to not ruin the finish of the toy, and to help your product last longer. Sprinkle with renew powder or a light dusting of cornstartch to keep the life-like feel!
---
Detail
Box Dimensions:
Product is not in any packaging or box.
TLA SKU: 4644465
Made By: Creature Cocks
Manufacturer Code: AH224
Customers Who Bought This Product Also Bought