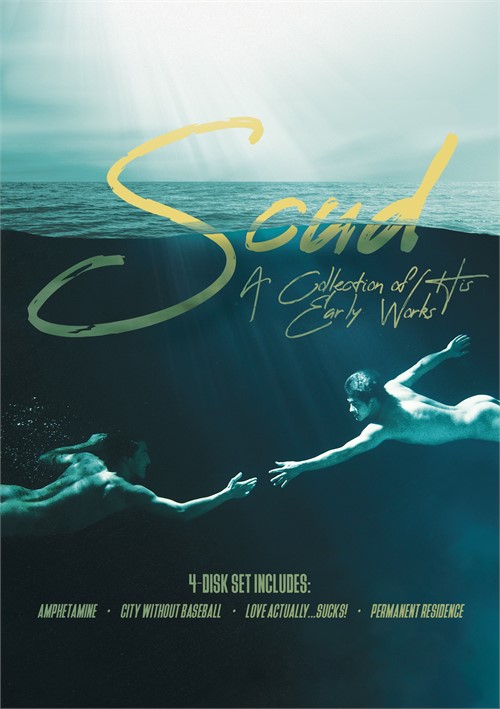 ---
---
This four-disc Collector's Edition features four early films from acclaimed Asian director Scud, including Amphetamine, City Without Baseball, Love Actually...Sucks! and Permanent Residence.
Amphetamine
When a passionate, gay executive, Daniel, meets a straight fitness trainer, Kafka, attraction blooms and the two men fall fatefully in love. They believe their love can bridge anything, even Kafka's sexual orientation and his habit. While Kafka tries to love Daniel, despite his romantic preferences, a traumatic memory from his past continues to hold him back. It turns out, an addiction to love proves more fatal than the they use to explore the boundaries of their relationship.
City Without Baseball
In a city where baseball culture is non-existent, these athletes are a minority by choice. The experience teaches them to deal with love, friendship and their own sexuality, while also giving them the strength to conqur losing in a spectator-less sport. City Without Baseball features the real-life Hong Kong baseball team, who bear their bodies and souls in this fictional youth drama.
Love Actually... Sucks!
An interconnected group of people in Hong Kong experience the dark side of love in this ensemble drama inspired by real-life crimes of the heart. Siblings in love are caught by their mother; a married painter falls for his same-sex life model; the intimacy amps up between a dance school teacher and his older, rich student; a lesbian couple attempts to overcome one partner's role-playing fears; and a love triangle ends in a dramatic turn of events. ~~Love Actually... Sucks!** celebrates the real sides of love, and those stories not often told.
Permanent Residence
Ivan has been searching for the answer to a major question: what comes after this life? Ivan falls passionately in love with a straight man, but when he realizes he is not ready to accept his bisexuality, his relationship implodes. Needing to make a change, he travels to the Dead Sea, where he finds a new community of friends who are also unlucky in love. Along his journey, he experiences new friendships, deaths and births, and designs a permanent residence for his loved ones, just in case there is an afterlife.
---
DVD Features
Interactive Menus
Chapter Selections
Web Site Information
Information
Director: Scud
Length: 6 hrs. 40 mins.
Rating: NR
Released: Dec 17 2019
Production Year: 2019
TLA SKU: 2742834
Number of Discs: 4
UPC Code: 850010363110
There Are No Reviews For Scud: A Collection of His Early Works