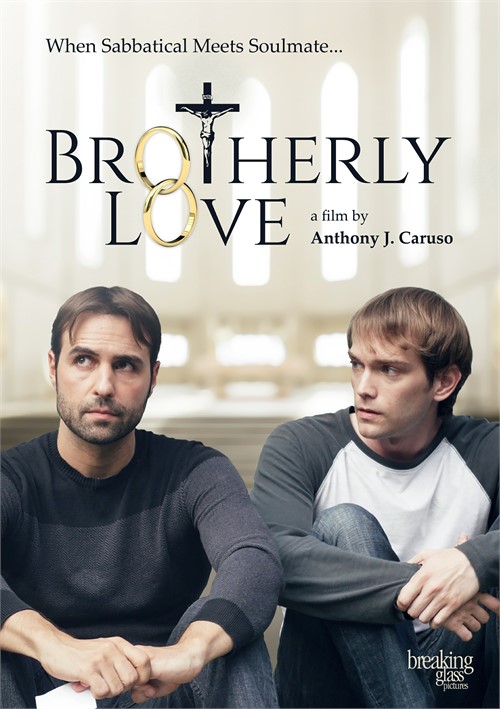 ---
---
Brotherly Love is the movie adaptation of the Lambda Literary Award-nominated novel Seventy Times Seven by Salvatore Sapienza. Which call do you answer? The one you feel from God or the one you feel about your authentic self? This is the dilemma at hand for Brother Vito (played by writer/director Anthony J. Caruso) as he must decide between becoming a Brother or declaring his love for Gabe (Derek Babb). Shot entirely in Austin, TX and with a local cast and crew, Brotherly Love is a fresh take on the traditional gay love story.
---
Information
Director: Anthony J Caruso
Length: 1 hrs. 56 mins.
Rating: NR
Released: Aug 07 2018
Production Year: 2018
TLA SKU: 2517835
Number of Discs: 1
UPC Code: 855184007549
Reviews
Review by Lopaka
By: Lopaka

I really can relate to this movie in so many levels. I have struggled as the main character has to make the same decision(s). I always love a good ending/beginning.
Review by KingMike
By: KingMike

This movie warms my heart.
I can't think of a better way to describe the meaning of love.
??????????????
Review by Marty
By: Marty

Without giving away the plot, I very much enjoyed this movie which mirrored my own decision about religious vocation made 40 years ago. (The character Tim was a scene stealer!!)
Review by Amos Lassen
By: Amos Lassen

"Brotherly Love"
Making Choices
Amos Lassen
Anthony J. Caruso makes his feature film writing/directing debut with his adaptation of Salvatore Sapienza's "Seventy Times Seventy" about a gay Catholic priest who has to choose betw...
Read More