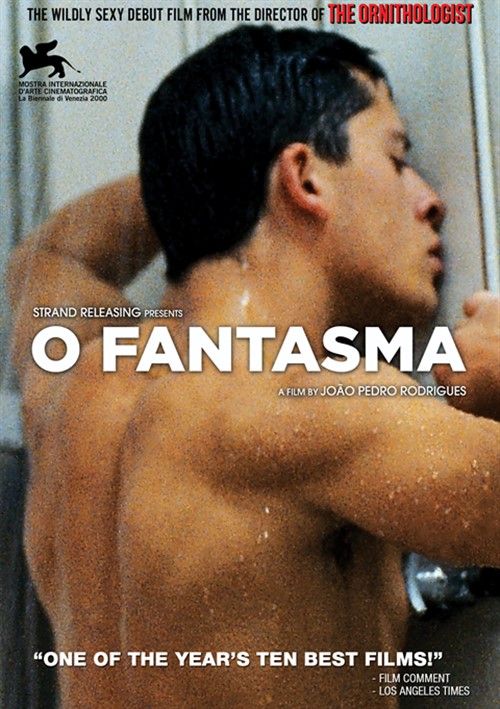 ---
---
Young and handsome Sergio works the night shift as a trash collector in Lisbon, Portugal. He can't himself to connect with his pretty female co-worker Fatima, who displays an avid interest in him, so instead Sergio roams the city with the trash company's pet dog. Eventually Sergio becomes fascinated with a sleek motorcycle, and then also its owner, Joo - a young man totally indifferent to Sergio. The frustrated trash collector's surfacing sexual desires unleash his darkest impulses, sending him down a dangerous path of violence, depravity and degradation.
---
Reasons to Buy
Explicit bathroom sex, latex suits with convenient back and front zippers, backseat jerk0off sessions - these are all part of a hunky trash collecto's day in this sexy gay arthouse hit!
Back on DVD after a long time out of print, this graphic gay classic from dorector Joao Pedro Rodfigues - The Ornithologist - still has the power to shock.
Relesed in 2000, O Fantasma earned great acclaim. Film Comment and The Los Angeles Times both praised it as one of the year's ten best films.
Information
Director: Joao Pedro Rodrigues
Length: 1 hrs. 32 mins.
Rating: NR
Released: Jul 31 2018
Production Year: 2000
TLA SKU: 2499473
Number of Discs: 1
UPC Code: 712267380329
Reviews
Review by Marty
By: Marty

When I saw the ad for the re-release I dug up my copy. I'd categorize this film as an art film rather than a movie with a plot line. O Fantasma floats from sex scene to sex scene and ends up with breakfast scrounged from a garbage dump. One of the ...
Read More
Review by Amos Lassen
By: Amos Lassen

"O Fantasma"
A Re-release
Amos Lassen
"O Fantasma", the debut film of João Pedro Rodrigues was hailed as one of the top 10 films of the year (2003) when first released and was praised as an 'audacious and compelling, dark and ero...
Read More