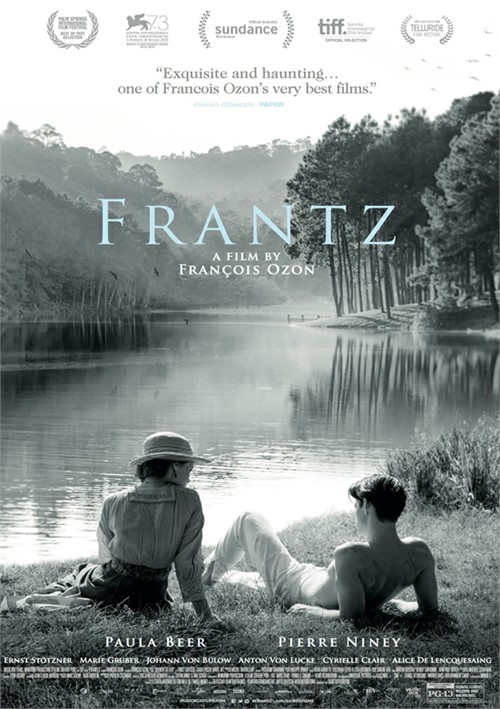 ---
---
A haunting tale of love and reconciliation begins in a small town in Germany in the immediate aftermath of World War I - when a young woman, mourning the death of her fiancé, encounters a mysterious Frenchman laying flowers on her beloved's grave.
Additional Versions
Reasons to Buy
Set in Germany and France in the immediate aftermath of the First World War, Frantz recalls the mourning period that follows great national tragedies as seen through the eyes of the war's "lost generation."
Drawing inspiration from Ernst Lubitsch's Broken Lullaby, this gorgeous black and white period piece is an exploration of how people wrestle with conflicting feelings - survivor's guilt, anger at one's losses, desire for happiness, and the longing for sexual, romantic and familial attachments.
We'll drop whatever we're doing to check out a new Francois Ozon movie. Though not as overtly gay-themed as some of the master filmmaker's other work, there's a subtitle homoerotic undercurrent to the relationship between the two soldiers depicted in the film - although Ozon is careful to subvert expectations.
Information
Director: Francois Ozon
Writer: Francois Ozon
Length: 1 hrs. 54 mins.
Rating: PG-13
Released: Jun 13 2017
Production Year: 2016
TLA SKU: 1904424
UPC Code: 751778950867
Catalog #: DV37604802
Reviews
Review by Amos Lassen
By: Amos Lassen

"Frantz"
A Mysterious Frenchman and the Wounds of War
Amos Lassen
Francois Ozun's "Frantz" is set predominately in Quedlinburg, Germany in 1919, not long after the end of the First World War, we learn of Frantz who served as a German s...
Read More