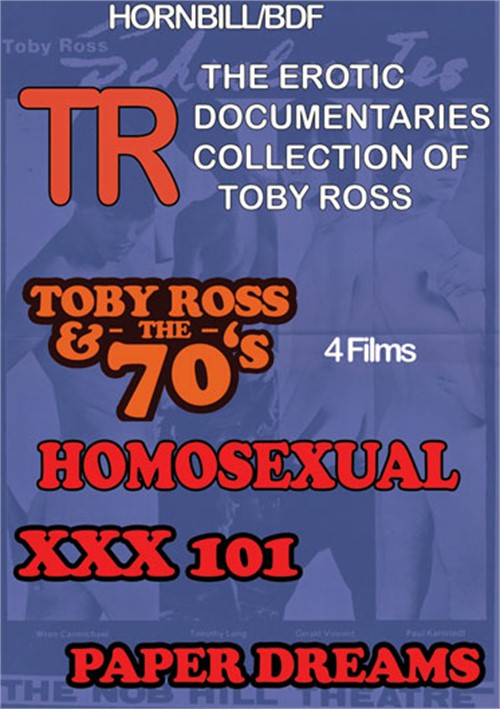 ---
---
Get four erotic documentaries from notorious cult director Toby Ross - all for one low price! This set includes the flicks Homosexual, XXX101, Toby Ross and the '70s and the most recent hit Paper Dreams.
Homosexual
In this funny and erotic mockumentary, director Toby Ross takes an out of the box look at homosexuals - dividing them into two major groups: those who are into it for the sex and those who are looking for relationships. The live reenactments are an eyeful and it goes through all the levels and strands of gay guys. Out and proud, fringe homos, closet cases by design, country queers and more.
XXX101
Ross also directs this humorous instructional mockumentary of how to cast, make and sell an adult video! This fun flick is loaded with more arousing "live reenactments" that will educate you while making you drool.
Toby Ross and the '70s
Here, Ross tells the full story behind casting and producing his theatrical adult features from the 1970's - against the backdrop of a jubilant San Francisco at the height of that crazy decade-long party. This doc is full of interviews with different personalities who were around for the action. It's also got gorgeous erotic footage from the iconic films Ross made during that time. Want to travel back to a magical time when sex and laughter brought people together and created an unforgettable era? You're in luck!
Paper Dreams
This unique documentary was designed as if it were film noir. Paper Dreams takes an unapologetic look at the gay adult magazine industry with all its glories and misfortunes stretching from 1955 to 1973.
---
Reasons to Buy
Get four sexually-charged, totally wild gay-themed documentaries for one low price!
For those who may not know, Toby Ross was also heavily involved with the gay porn industry in its 16mm heyday. He was elected to the GayVN Awards Hall of Fame in 2003 and won a Life Achievement Award from the Grabbys. The doc Toby Ross and the '70s will give you all info!
These four movies are absolutely loaded with hot, fully frontal male nudity. There are also a whole bunch of "reenactments" included - which means even more hot, naked dudes involved in some exciting man-on-man action.
Information
Director: Toby Ross
Writer: Toby Ross
Length: 5 hrs. 0 mins.
Rating: XXX
Released: Jun 28 2016
Production Year: 2013
TLA SKU: 1827159
Number of Discs: 4
UPC Code: 808406224194
Catalog #: DV37260302
There Are No Reviews For TR Erotic Documentaries Collection, The