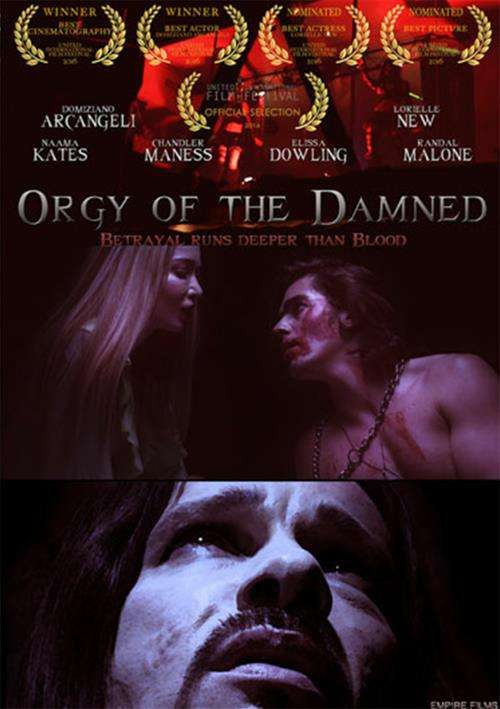 ---
---
Underneath its veil of pleasure and betrayal, Orgy of the Damned centers around Fosco (Domiziano Arcangeli), a 300-year-old vampire who lives in a beautiful mansion with his wife Sabina (Lorielle New), and their son Dimitri (Chandler Maness). Their lives are a non-stop, pansexual lust orgy where anything goes and always does. That is until Fauna (Naama Kates) and her boyfriend Micah (Vincent Hoss-Desmarais) show up and turn the ecstasy-driven clan into murderous back-stabbers, hell-bent on revenge and power.
---
Reasons to Buy
Empire Films premiered Orgy of the Damned, their newest film, at the United International Film Festival in Hollywood at Raleigh Studios. The film won awards for Best Actor as well as Best Cinematography. It was also nominated for Best Actress and Best Picture.
There is a lot of homoerotic content sprinkled throughout the movie. These orgy-loving, centuries-old vampires mostly appear to be bisexual. They just love sex, doesn't matter what gender they're having it with.
If you like Orgy of the Damned, make sure to check out The Brides of Sodom as well. It's very much in the same campy, gothic-horror vein, but with even more gay sex scenes and subplots.
Information
Director: Creep Creepersin
Writer: Creep Creepersin
Writer: Domiziano Arcangeli
Length: 1 hrs. 35 mins.
Rating: NR
Released: Jun 28 2016
Production Year: 2016
TLA SKU: 1787547
UPC Code: 758149702315
Catalog #: DR37205002
Reviews