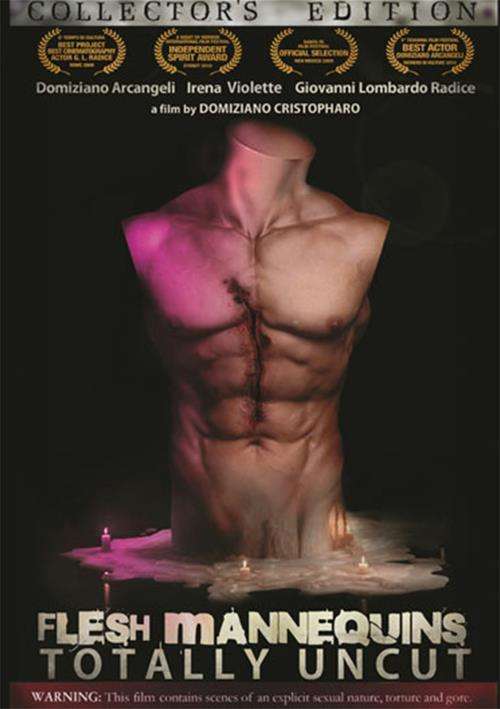 ---
---
Sebastian is a scarred shell of a man who treasures his movie camera and obsesses over his projections. The ghosts of his abusive childhood haunt him, provoke him and push his fragile composure deeper into the abyss. Meanwhile, Sarah, a svelte and gorgeous creature, lives just across the hallway with her crippled father, Mr. Roeg. Unaware of the danger that lies ahead, she is eager to delve into Sebastian's mind and discover his passion, leading to a chilling path toward tragedy. These tortured souls collide like a cold, clammy hand into a velvet glove - with dark and carnal desires interweaving into one another's lives.
---
Reasons to Buy
Though, plot-wise, this movie has less overt homoeroticism than Empire Films' other recent releases - The Brides of Sodom and Orgy of the Damned - there are still a ton of hot naked dudes to gaze upon!
Flesh Mannequins: Totally Uncut is the official uncensored collector's edition of the award-winning low-budget cult flick House of Flesh Mannequins. This version includes never-before-seen footage and a number of sexy bonus features.
Not for the prudish, this is a twisted tale of sexual perversion. There is an incredible voyeuristic masturbation scene where a guy starts sensually stroking himself while being watched through a peep hole by another guy.
Information
Director: Domiziano Cristopharo
Writer: Domiziano Cristopharo
Length: 1 hrs. 44 mins.
Rating: NR
Released: Sep 27 2016
Production Year: 2016
TLA SKU: 1787545
UPC Code: 758149702308
Catalog #: DR33421704
Reviews