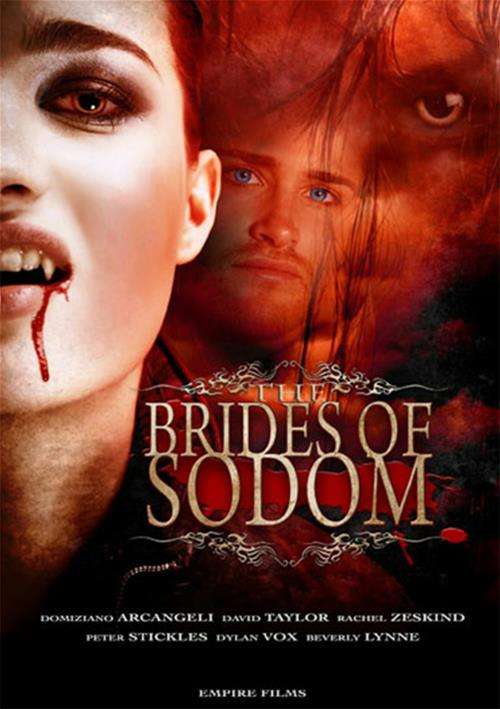 ---
---
From gothic punk filmmaker Creep Creepersin comes a tale of decadence set in a lavish, dark, post-apocalyptic world where vampires are named for Greek Gods and witches rule everything. Eros (David Taylor) falls in love with a human named Samuel (Domiziano Arcangeli) and wants to "save" him by making him a vampire as well. But Eros' evil vampire lover, Dionysus (Dylan Vox), has other ideas. Matters are complicated by Eros' sister and lover Persephone (Rachel Zeskind), along with an ambiguous bookkeeper and three witches who know the secrets of the universe and "The Laws Of Eternity."
---
Reasons to Buy
The Brides of Sodom is all about a hot undead gay love triangle featuring ridiculously beefy, masculine, bisexual guys.
The cast is packed with hot gay porn actors including David Taylor and Dylan Vox. Also in the movie is Peter Stickles, one of the stars of "The Lair" and John Cameron Mitchell's Shortbus.
For anyone who is a fan of the recent gay vampire trend, this is a perfect addition to Vampire Boys, Vampire Boys 2: The New Brood, Mr. Hush, 1313: Boy Crazies, Immortal Kiss: Queen of the Night, Vampires: Brighter in Darkness, Eulogy for a Vampire and, of course, "The Lair ."
Information
Director: Creep Creepersin
Writer: Creep Creepersin
Length: 1 hrs. 24 mins.
Rating: NR
Released: May 31 2016
Production Year: 2013
TLA SKU: 1787544
UPC Code: 758149702292
Catalog #: DR34861003
Reviews