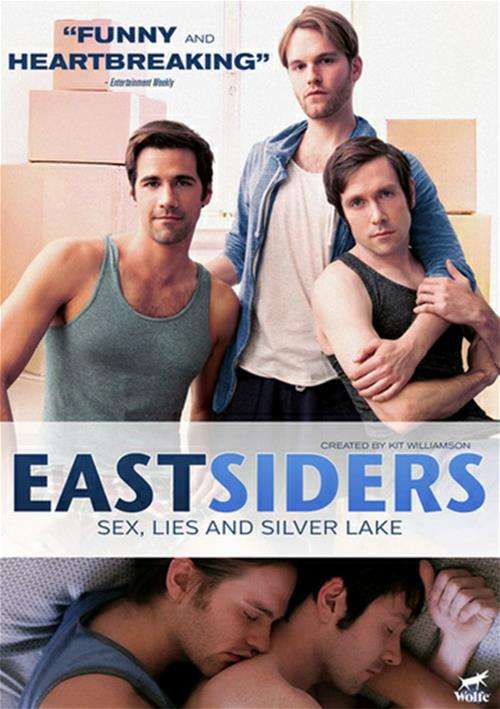 ---
---
Written and directed by award-winning playwright Kit Williamson, Eastsiders is a funny and entertaining peek into the life and friends of a gay couple in Los Angeles's Silver Lake neighborhood. When Cal (Kit Williamson himself) finds out Thom (Van Hansis) has been cheating on him with Jeremy (Matthew McKelligon), their relationship is turned upside down. Will the lies tear them apart or are they just stubborn enough to stay together forever?
---
Reasons to Buy
Eastsiders: The Movie cobbles together each episode of the popular web series so that you can watch the full story play out uninterrupted. Make sure to check out Eastsiders: Season 2 as well!
This series received considerable acclaim for the way it portrays gay characters without making their homosexuality the essential plot point. It simply observes interesting characters in challenging relationships.
Lead actors Van Hansis and Kit Williamson (who created, writes and directs the series) are both hilarious and heartbreaking in the perfect measure. The supporting cast (including BearCity's Stephen Guarino and You're Killing Me's Matthew McKelligon) is equally dynamite.
Information
Director: Kit Williamson
Writer: Kit Williamson
Length: 1 hrs. 55 mins.
Rating: NR
Released: Aug 12 2014
Production Year: 2013
TLA SKU: 1786421
UPC Code: 754703764119
Catalog #: DV37200102
Reviews
Review by gbelly
By: gbelly

Not bad, but in great need of editing.
Review by Amos Lassen
By: Amos Lassen

Kit Williamson wrote and directed this feature length film, "Eastsiders" that is based upon his miniseries of the same name. Set in the Los Angeles neighborhood of Silver Lake we meet the friends of Cal (Williamson) and Thom (Van Hansis), a couple wh...
Read More