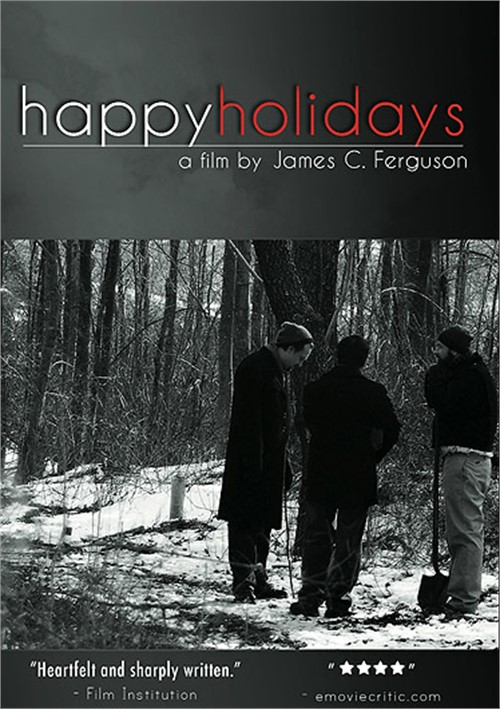 ---
---
A fantastic comedic ensemble cast from stage, screen and television come together in a black and white indie comedy about friendship, the holidays...and religious pluralism. An Atheist, a Catholic and a Jew walk into a bar... What starts as a punchline blooms into Happy Holidays, a comedy about friendship, family and faith. Three childhood friends unexpectedly reunite in their New England hometown the week before Christmas. Now in their mid-thirties, it's the first time Patrick, Alden and Kirby have been in the same zip code since their high school graduation. Each of them is at a different crossroads in his life and facing difficult hurdles. They try to pick up where they left off, a simpler time -- before obligations, politics, agendas -- but has life taken them too far to make that possible? Alden is a recent convert to Judaism. He currently lives in Chicago, but is constantly on the move. Alden has major commitment issues. Kirby is a staunch Catholic, who uses his faith to justify his moral lapses. Kirby is in town from Baltimore, where he lives with his wife and kids. And Patrick still lives in his parents' house in Connecticut (which he purchased from them; they live in Maine.) A self-proclaimed Atheist, Patrick is also one of the only openly gay men in town. Patrick's parents, coincidentally, have major issues with the fact that he's gay (or so he thinks...). The story really centers on Patrick, whose life is becoming more and more complicated, especially around the holidays. Not only is he dealing with his parents' lack of acceptance for his lifestyle (or his own perception of their lack of acceptance), but he is also trying to figure out where his relationship stands with his partner, Kevin. Should he stay with Kevin? Should he continue living in his parents' house? What does he want to do with his life? Patrick conveniently puts these issues on hold while he attempts to help his friends with their problems. Alden arrives a day before Christmas Eve. He is running from his longtime girlfriend who has just proposed to him. Kirby arrives the same day, but he's in town for his estranged father's funeral. Patrick and his friends spend the next forty-eight hours trying to relive the past. In doing so, they ultimately discover that the past.
This title ships on a DVD-R format disc. Please note, some DVD players may not be able to play this format. Please make sure your DVD player is compatible with this format before purchasing this title.
---
Reasons to Buy
It's a funny, sometimes moving story about how hard it is to be home for the holidays.
If you like witty movies (and don't mind a lot of talk), this one's for you.
Fascinating B&W cinematography.
Information
Director: James C. Ferguson
Writer: James C. Ferguson
Writer: Thomas J. Misuraca
Rating: NR
Released: Nov 11 2014
TLA SKU: 1761514
UPC Code: 807839005677
Catalog #: DR3276342
Reviews
Review by Robert O'Neill
By: Robert O'Neill
In-House Review - Sep 27 2011
Add Happy Holidays to your list of gay-themed flicks not to miss during the Holiday season - right next to Make the Yuletide Gay and 24 Nights!
Three dear childhood friends (one gay, two straight) reunite, unexpectedly, on Christmas Eve ...
Read More
Review by Marty
By: Marty

If unsympathetic characters ranting at each other is your thing, this movie is for you. The tender closing moments of the film don't make up for the rest. Sorry.
Review by HJohnson
By: HJohnson

If they had cut about 40 minutes off of this film it might have been better. It was boring. For something labeled as a "comedy", it wasn't so much. And I'm still not sure why it was in black and white. Trying to be artsy? Who knows. I'm just gl...
Read More
Review by Amos Lassen
By: Amos Lassen

It has long been an American tradition to go home or Christmas and here is a film that takes us to Connecticut where three friends reunite during the holiday. Here is a story about growing up, growing apart and then coming together. But it is a bit d...
Read More