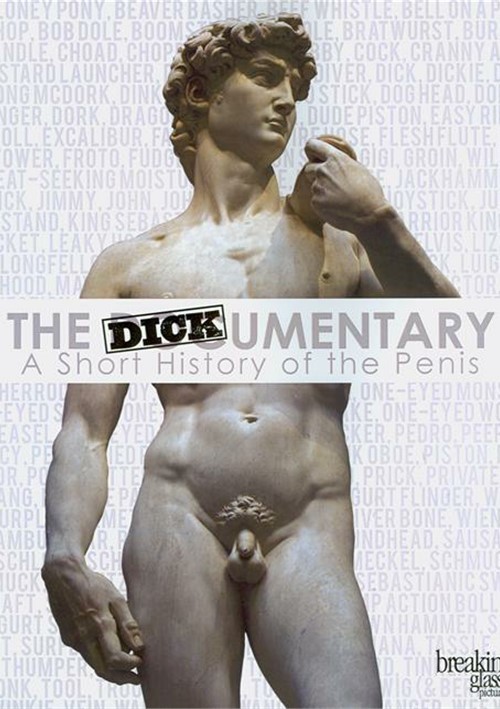 ---
---
Cultures have worshipped it and circumcised it. Men have sought ways to make it larger. Gay men certainly spend a lot of time thinking about it. Across fourteen countries, featuring interviews with more than 40 experts, The Dickumentary tries to answer some of the greatest questions about the penis. What happened to Jesus' foreskin? Why do Hindus worship Shiva's lingam? Does size really matter? The Dickumentary is an epic journey through a subject that doesn't get talked about nearly enough in polite society.
---
Reasons to Buy
You know you're curious!
Everything you've always wanted to know about the penis, but were afraid to ask.
The Dickumentary tells the full story of the beloved penis as though it were a character - from its evolution as a biological structure millions of years ago in prehistoric fish to today.
DVD Features
Making of "The Dickumentary"
Director's Commentary
Deleted Scenes
Information
Director: Sofian Khan
Length: 1 hrs. 11 mins.
Rating: NR
Released: Mar 31 2015
Production Year: 2014
TLA SKU: 1723296
UPC Code: 855114005218
Catalog #: DV36680502
Reviews
2 Reviews for Dickumentary, The: A Short History Of The Penis
Write a Review
Review by Hermit
By: Hermit

Apart from the evolution/scientism agenda at the beginning that was showed down the viewer's throat, and purported as fact (I mean, really!?), which was completely unnecessary and didn't add anything to this dickumentary... it was an ok documentary. ...
Read More
Review by Amos Lassen
By: Amos Lassen

Let's talk about the penis. Ten years ago you would never heard someone mention penis aloud and neither would we see films about it but now the penis has come out of the closet and the word has become as common as tuna fish salad. Every man has a pen...
Read More