---
---
You've never experienced a movie like Burning Palms; five stories so twisted, they could only take place in Los Angeles. A father's relationship with his precocious teenage daughter is too close for comfort for his fiancée. A woman becomes undone by her boyfriend's kinky bedroom request. An unsupervised young boy leads his brothers in disturbing games. A lonely woman confronts her attacker with a bizarre request. And, of course, there are the afformentioned new gay parents. Dylan McDermott, Rosamund Pike, Shannen Doherty, Lake Bell, Zoe Saldana, and Nick Stahl star in this macabre comedy from the co–screenwriter of Disturbia and Paranormal Activity 2.
---
Additional Versions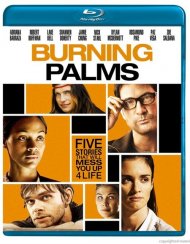 Reasons to Buy
There are plenty of cute male actors in this movie - including *product49753, Dylan McDermott and Anson Mount.
One of the short stories covered in Burning Palms involves a gay couple who are wildly unsuited to raise a child. It's very entertaining.
Almost every character in this movie is worthy of contempt, but that is pretty much the fun of the whole thing!
DVD Features
Features Not Specified
Information
Director: Christopher Landon
Producer:

Jason Hewitt

Producer:

Christopher Landon

Producer:

Oren Segal

Writer: Christopher Landon
Length: 1 hrs. 52 mins.
Rating: R
Released: May 24 2011
Production Year: 2010
TLA SKU: 1573045
Number of Discs: 1
UPC Code: 014381707120
Catalog #: DV3203762
Reviews
Review by Robert O'Neill
By: Robert O'Neill
In-House Review - May 03 2012
A gay couple, played by Peter Macdissi (known best as Olivier on "Six Feet Under" - he is also Alan Ball's real-life partner) and the hunky Anson Mount (AMC's "Hell on Wheels"), brings home the ultimate lifestyle accessory: an African child. The trou...
Read More
Review by Amos Lassen
By: Amos Lassen

"BURNING PALMS"
A Look At Human Nature
Amos Lassen
Chris Landon (yes, the son of Michael Landon) makes his directorial debut with "Burning Palms", a dark and well-made look at human nature. He also wrote the screenplay. The movie consi...
Read More