---
---
Picture this if you will. A futuristic lighthouse floating through dark space. Aboard this lighthouse is a Spirit Guide and his two younglings Alexi and Micah. These three spiritual beings are on an unusual journey. When the curious Alexi asks what his life will be like on Earth, the Spirit Guide is compelled to show him. He knows that dark are at hand and Alexi may indeed never be born at all. The Guide reluctantly shows him moments in time where we find Alexi's family in deep turmoil... where dark secrets abound. Along the Journey, we are introduced to a man simply referred to as "Him". This character serves as our narrator, a charismatic wise guy enjoying a steak dinner at his favorite Italian eatery. But this caporegime may be more important than he seems. Is he simply narrating or controlling the events himself? If this sounds like a page pulled out of "The Twilight Zone," you would be right. Just add a large dose of David Lynch-esque sensibilities and the pervasive casual (and not so casual) nudity and sex that are synonymous with Babaloo Studios. We welcome you to join us on this unusual journey. Enjoy Dancing on the Dark Side of the Moon.
---
Additional Versions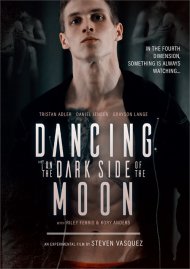 DVD Features
Interactive Menus
Chapter Selections
Web Site Information
Information
Director: Steven Vasquez
Length: 1 hrs. 1 mins.
Rating: NR
Released: Apr 20 2021
Production Year: 2021
TLA SKU: 2752472
Number of Discs: 1
UPC Code: xx2752472
Reviews
Review by GP
By: GP

Tristan Adler is actually a Trans, Hayden Lee Rife, formerly Brandon Lee Rife, that is all.
Review by Alien One
By: Alien One

Once again, Steven Vasquez showers us with a twisted, campy, disjointed film. It takes more than one viewing to really put it all together. Be glad you did!
Review by The Doc
By: The Doc

This is, quite possibly, and it's some achievement, the worst film ever made. Woeful acting, I mean REALLY awful, mind numbing direction and a script which, well, anyone would be ashamed of. SPARE YOUR CASH!
Review by avid watcher
By: avid watcher

Strategically disjointed and intentionally non-linear, perhaps - but being charitable this was nearly incoherent. I did watch the whole thing just to be sure. I wished there were something to recommend it, as it wasn't the storyline, the acting, or...
Read More
Review by Amos Lassen
By: Amos Lassen

"DANCING ON THE DARK SIDE OF THE MOON"
A Film that Bends Genres
Amos Lassen
I am constantly amazed at the outlook of director Stephen Vasquez. You can never anticipate what his movies are about and yet you will always...
Read More