---
---
To be a father, you have to make difficult choices. Having a hard time landing a job after spending time in prison, Shawn takes work as an erotic dancer to support his daughter... and falls in love with a man for the first time. A stylish and heartfelt short film from prolific director AJ Mattioli and co-director/star Jonathan Salazar, Neon Boys has charm and sex appeal to spare.
---
Additional Versions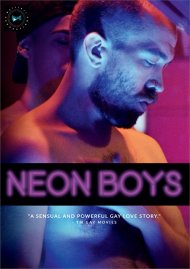 DVD Features
Interactive Menus
Chapter Selections
Web Site Information
Information
Director: AJ Mattioli
Director: Jonathan Salazar
Length: 30 mins.
Rating: NR
Released: Mar 30 2021
Production Year: 2020
TLA SKU: 2751624
Number of Discs: 1
Reviews
Review by BiFilmLover
By: BiFilmLover

Just.No! Over & over. 30 mins of bad writing & worst acting. Even the "go-go" dancing was bad.
Best thing about it was the laughs generated from the poor acting. Unfortunately, the "movie" was so short even those laughs weren't enough to j...
Read More
Review by Kingman
By: Kingman

Less than what I expected. It was very predictable.Same old plot lines. The only good part is that it is only 30 minutes long and about 30 seconds of butt scenes. Save your money.

Review by WhimsyBoy
By: WhimsyBoy

Having worked as a gogo dancer for year, Neon Boys, bring a whole lot of that world to light in this punchy short film. Filled with ever so relatable moments and anchored by wonderful performances, especially from Matty Gliterari, grab a bag of popco...
Read More
Review by Poisonjoker
By: Poisonjoker

Amazing production. Truly recommend to watch. Amazing cast and storyline.
Review by Poisonjoker
By: Poisonjoker

Amazing movie. Great cast. It's an emotional rollercoaster. So recommended to all to see. 5 stars. Couldnt wait to see more films from this production company cast, and directors.