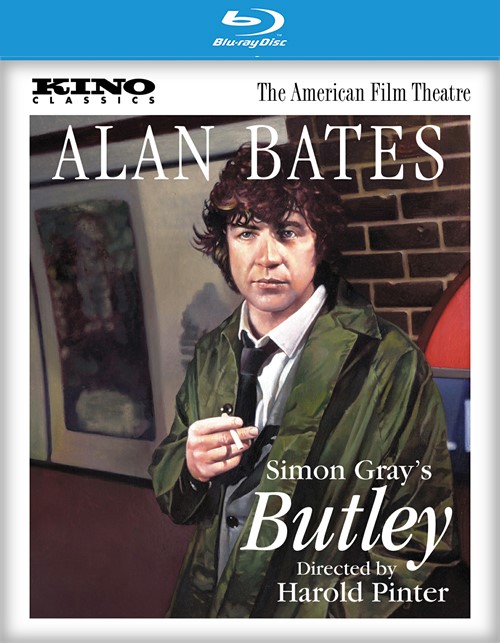 ---
---
On any given day Ben Butley, a self-made train wreck of an English Literature professor at a London university, can shrug off everyone and everything with equal ease. But today, the disaster of Butley's proudly misspent life threatens to dwarf even his cynically fatalistic non-expectations. Arriving at his cramped cave of an office, Butley is informed that his adored lover Joey is moving in with another man, his estranged wife is re-marrying, and his seemingly untalented colleague has been published ahead of him.
As embodied by Alan Bates, Butley falls back on the surgically precise wit and savage eloquence that helped put him in his current circumstances in the first place. The blitzkrieg of vitriolic commentary with which Butley engages lovers, students, rivals, and allies, all with equal ferocity, becomes a glass bottom boat illuminating the churning depths of his bankrupted soul. Acclaimed playwright Harold Pinter, in what Time Magazine hailed as "a quite superior directorial debut," turns author Simon Gray's single-set, dialogue driven stage play into an irresistible dynamic visual experience that tracks Bates' hilarious and fearless performance with cunning precision.
Bates and an expert supporting cast, including Oscar-winner Jessica Tandy, joust with a sly, self-referencing wit and an unselfconscious exuberance that is breathtaking. With every verbal parry and valedictory flourish of wordplay, Butley's life becomes more of an inescapable bear trap of thwarted ambition, clandestine affection, and squandered brilliance.
---
Additional Versions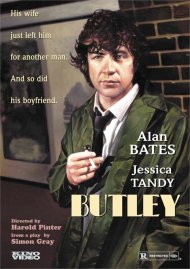 DVD Features
Interactive Menus
Chapter Selections
Web Site Information
Information
Director: Harold Pinter
Length: 2 hrs. 10 mins.
Rating: R
Released: Aug 27 2019
Production Year: 1974
TLA SKU: 2679937
Number of Discs: 1
UPC Code: 738329239084
Reviews
Review by Amos Lassen
By: Amos Lassen

"Butley"
Left Alone
Amos Lassen
"His wife just left him for another man. And so did his boyfriend." Director Harold Pinter's 1973 drama Butley is an entertaining and revealing film of one of the Seventies most ear-catching London West...
Read More