---
---
In this exquisitely calibrated film, Charlotte Rampling and Tom Courtenay perform a subtly off-kilter pas de deux as Kate and Geoff, an English couple who, on the eve of an anniversary celebration, find their long marriage shaken by the arrival of a letter to Geoff that unceremoniously collapses his past into their shared present. Director Andrew Haigh carries the tradition of British realist cinema to artful new heights in 45 Years, weaving the momentous into the mundane as the pair go about their daily lives, while the evocatively flat, wintry Norfolk landscape frames their struggle to maintain an increasingly untenable status quo. Loosely adapting a short story by David Constantine, Haigh shifts the focus from the slightly erratic Geoff to Kate, eliciting a remarkable, nuanced portrayal by Rampling of a woman's gradual metamorphosis from unflappable wife to woman undone.
---
Additional Versions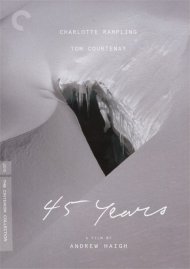 Reasons to Buy
45 Years is not a gay-themed movie, but it comes from one of our favorite LGBT filmmakers. Andrew Haigh is the same man behind the HBO series " Looking " and the profoundly touching 2011 gay hit Weekend.
Charlotte Rampling, always incredible, won the Silver Bear for Best Actress at the Berlin International Film Festival and picked up an Oscar nomination. She and Tom Courtenay give understated, but thoroughly moving performances.
This movie gives us an intimate look at a long marriage and shows what it means to really love someone long-term. It's a powerful story that will connect with audiences of all backgrounds and orientations.
DVD Features
Audio Commentary Featuring Haigh and Producer Tristan Goligher
New Documentary Featuring Interviews with Haigh, Goligher, Actress Charlotte Rampling anf Tom Courtenay, editor Jonathan Alberts, and Director of Photography Lol Crawley
New Interview with David Constantine, Author of the Short Story on Which the Film was Based
Trailer
An Essay by Critic Ella Taylor
Information
Director: Andrew Haigh
Writer: Andrew Haigh
Length: 1 hrs. 51 mins.
Rating: R
Released: Mar 07 2017
Production Year: 2015
TLA SKU: 1890533
UPC Code: 715515193115
Catalog #: DB37186705
Reviews
Review by Amos Lassen
By: Amos Lassen

"45 Years" opens with the recurrent click of a slide projector and we immediately realize that photographs are the main totems of the film. Kate (Charlotte Rampling) and Geoff Mercer (Tom Courtenay) are preparing to celebrate their 45th anniversary a...
Read More