---
---
A gay romance with a punk/hardcore aesthetic, Desire Will Set You Free takes you deep into the free-spirited, -fueled queer-paradise of contemporary Berlin. Ezra, a struggling American writer, meets Sasha, a Russian immigrant escort, and he introduces him to his world of clubs and parties - a dizzying and vibrant hedonistic underground. As they journey together through Berlin's layered history and unique subcultural landscapes, their relationship begins to take a new form and inner desires threaten to disrupt everything.
---
Additional Versions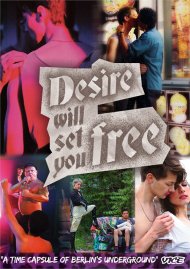 Reasons to Buy
Desire Will Set You Free is an energetic feature film that explores life in contemporary Berlin with an often critical and sometimes humorous eye.
Fast-paced and sexy with eye-popping cinematography and production design, the film features an über-large cast of notable figures as well as all real Berlin locations.
Based on a true story, the plot follows the relationship of an American writer of Israeli/Palestinian descent and a Russian aspiring artist working as a hustler, offering access to the city's vibrant queer and underground scenes.
Reviews
Review by Amos Lassen
By: Amos Lassen

"Desire Will Set You Free"
Life in Contemporary Berlin
Amos Lassen
"Desire Will Set You Free" explores artistry, music, social identity, and culture, honing in on a generation of refugees, outcasts, and the stories that bind them toget...
Read More