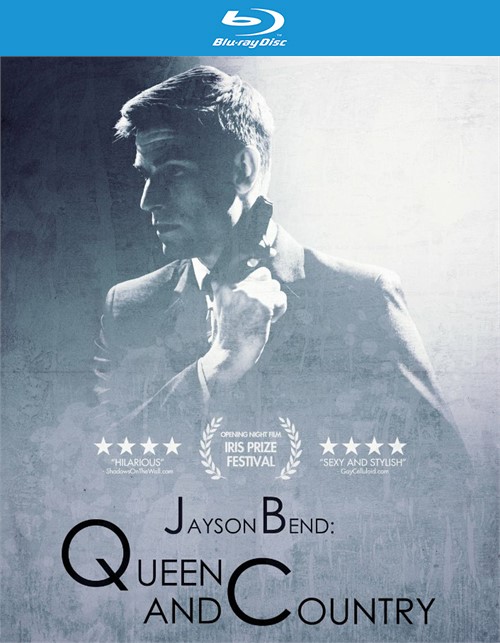 ---
---
Jayson Bend (also known as "Agent 009") is an openly gay British super spy! Modeled completely after James Bond, he drives fast and plays hard - always with other hot boys. In this truly impressive 48-minute parody/homage, the first in an on-going series, Jayson teams up with a sexy Swiss counterpart to try and stop the world's largest global hair salon chain, and their nefarious CEO, from launching a satellite that will threaten the very fate of human existence. Don't miss this exhilarating new thrill ride!
BONUS: SUPER SEXY SHORT FILMS!
Included on the DVD are two amazing, never-before-seen short films: Boys on the Rooftop (2016, 18 min) and Actos Impuros (1993, 23 min). Both are guaranteed to keep your pulse racing once Jayson Bend is over!
This title ships on a BD-R format disc. Please note, some Blu-ray players may not be able to play this format. Please make sure your Blu-ray player is compatible with this format before purchasing this title.
---
Reasons to Buy
Gentlemen, get ready to meet the gay James Bond! Jayson Bend is an exceptionally well-made satire - a funny and sexy send-up of Ian Flemming's iconic character.
A major short film hit at LGBT film festivals around the globe, Jayson Bend is now coming to DVD for the first time ever! Don't miss this guaranteed crowd-pleaser.
As a special bonus, you'll also get two incredible rare short films from acclaimed Mexican director Julián Hernández. One is an early work from 1993 (Actos Impuros) and the other is a brand-new (and staggeringly sexy) treat called Boys on the Rooftop. Even at just 18 minutes, this new short alone is worth the price of admission!
Information
Director: Matt Carter
Writer: Andrew Faure
Length: 49 mins.
Rating: NR
Released: Nov 29 2016
Production Year: 2013
TLA SKU: 1868430
Number of Discs: 1
UPC Code: 111111111111
Catalog #: DB37313703
Reviews
Review by Amos Lassen
By: Amos Lassen

Agent Jayson Bend (Davis Brooks) teams up with Swiss counterpart Alec DeCoque (Tom Read Wilson) to stop the launch of a new satellite that will turn Raymond Perdood (Paul Norton) into one of the most powerful men in the world. Perdood owns the larges...
Read More