---
---
Keep the Lights On chronicles an emotionally and sexually charged journey of two men in New York City through love, friendship and addiction. Documentary filmmaker Erik (Thure Lindhardt) and closeted lawyer Paul (Zachary Booth) meet through a casual encounter, but soon find a deeper connection and become a couple. Individually and together, they are risk takers - compulsive and fueled by and sex. In an almost decade-long relationship defined by highs, lows and dysfunctional patterns, Erik struggles to negotiate his own boundaries and dignity while being true to himself. Director Ira Sachs's fearlessly personal screenplay is anchored by Lindhardt, who embodies Erik's isolation and vulnerability with a gentle presence. Harrowing and romantic, visceral and layered, Keep the Lights On is a film that looks at love and all of its manifestations, taking it to dark depths and bringing it back to a place of grace.
---
Additional Versions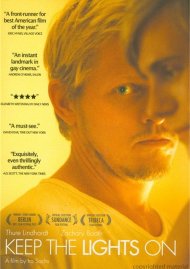 Reasons to Buy
Keep the Lights On won the awards for "Outstanding Screenwriting in a US Dramatic Feature Film" and "Outstanding US Dramatic Feature Film" at Outfest and the Teddy Award at the Berlin International Film Festival.
The film has been receiving rave reviews from critics. The Village Voice called it "front-runner for best American film of the year" and NEXT magazine said that it is "the grittiest and most heartbreaking gay love story of our times."
Director Ira Sachs (who gay audiences might know best as the man behind the 1996 hit The Delta) has crafted such a compelling film that it transcends the limits of gay cinema and has connected with larger, mixed audiences around the world.
DVD Features
Audio Commentary With Director Ira Sachs
Making Of Keep The Lights On
Deleted Scenes
Teaser Trailer
In Search Of Avery Willard
Cast Audition Tapes
Information
Director: Ira Sachs
Producer:

Ira Sachs

Producer:

Marie Therese Guirgis

Producer:

Lucas Joaquin

Writer: Ira Sachs
Writer: Mauricio Zacharias
Length: 1 hrs. 42 mins.
Rating: NR
Released: Jan 22 2013
Production Year: 2012
TLA SKU: 1634211
Number of Discs: 1
UPC Code: 741360538153
Catalog #: DB34267903
Reviews
Review by Kelly Burkhardt
By: Kelly Burkhardt
In-House Review - Oct 19 2012
Ira Sachs (The Delta) is not afraid to delve deeply into the effervescent and sometimes carnal nature that makes us tick as humans. Set in New York City in the late '90s, Keep the Lights On follows blond and handsome documentary filmmaker Erik (Thure...
Read More
Review by Amos Lassen
By: Amos Lassen

Set in 1997, New York is changing. Erik Rothman (Thure Lindhardt), a documentary filmmaker, meets Paul Lucy (Zachary Booth), a good looking lawyer who is in the closet. What started as a sexual encounter evolves into a relationship and the two men be...
Read More